---




​******************************
Hi! You can contact me at: haruspruce1@gmail.com

******************************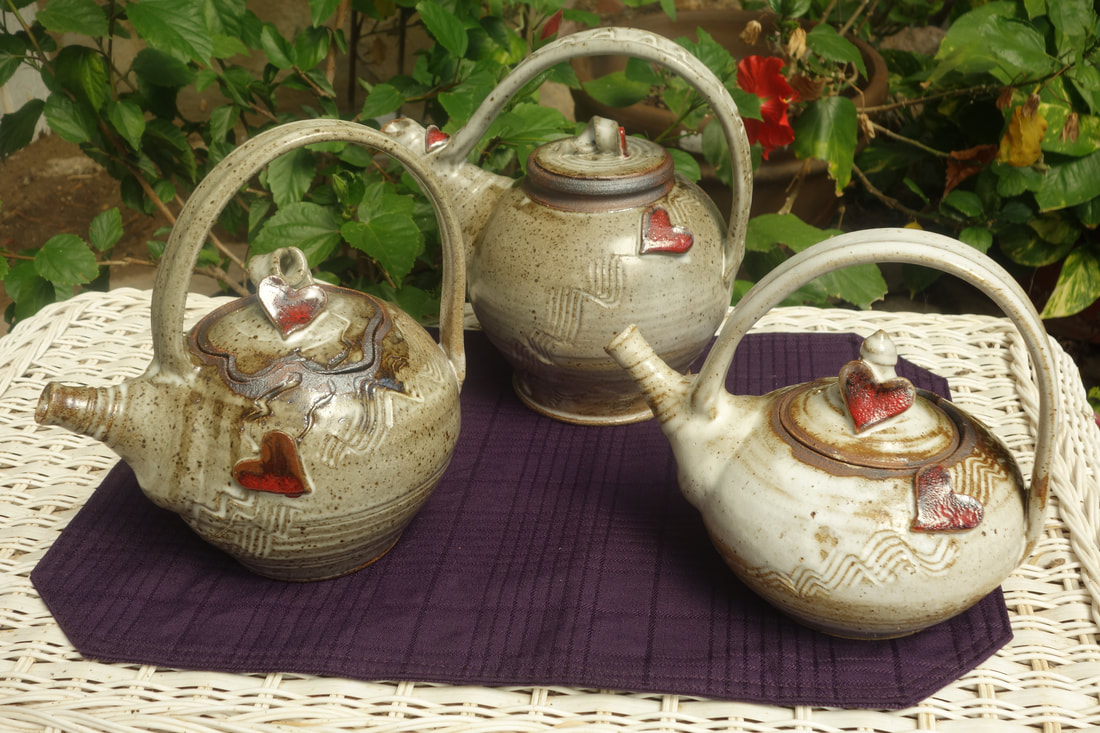 September 1
Bean pots and casseroles!
There will be more....
You could definitely make artisan bread in these casseroles, below, as well as many other things. The bean pots will cook baked beans and also are great serving dishes, bakers for deep casseroles...
Early August
August. Ah, summer. Perhaps the worst of the heat is over-- only 95 degrees today! But the monsoons have come and things are greening up....
​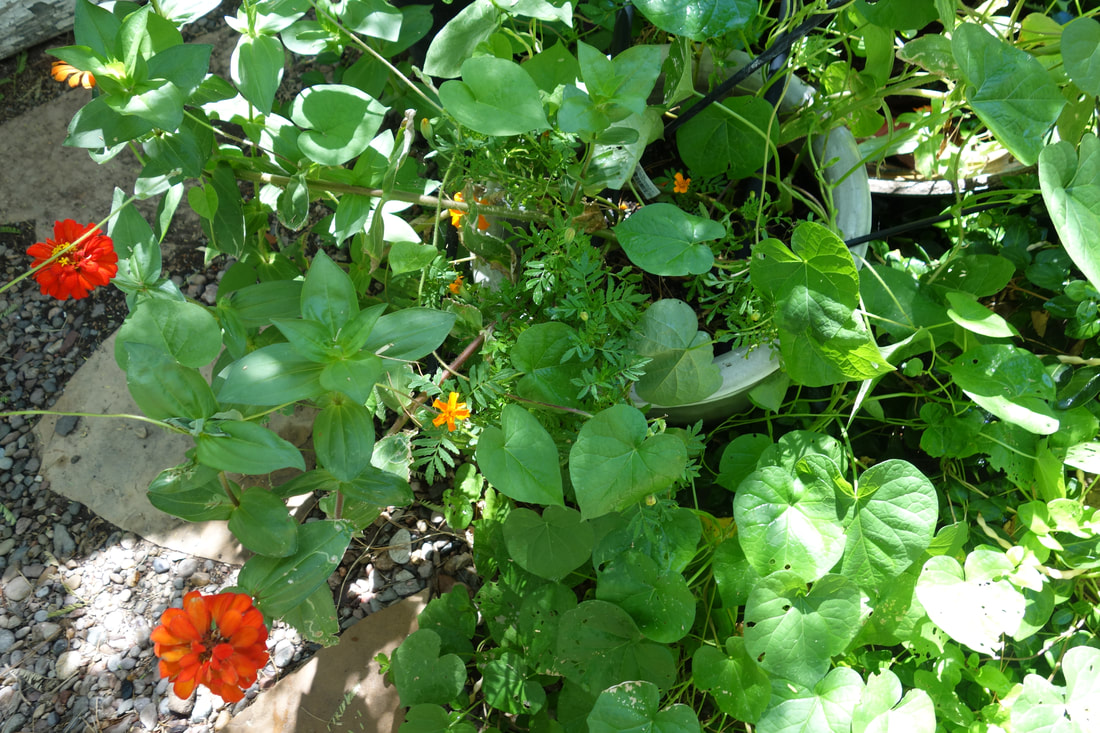 ---
August 10

August 10, 2017 kiln opening. Practice, practice, practice! My Labor Day show in Taos got canceled so I am not sure what I am going to do with these pots. I'll just keep on making them. Paying for motels, food, and travel was pretty expensive anyway. Wonder what's next? I'll probably do some shows closer to home this fall.

​That big red bean pot needs a little grinding but it'll be OK.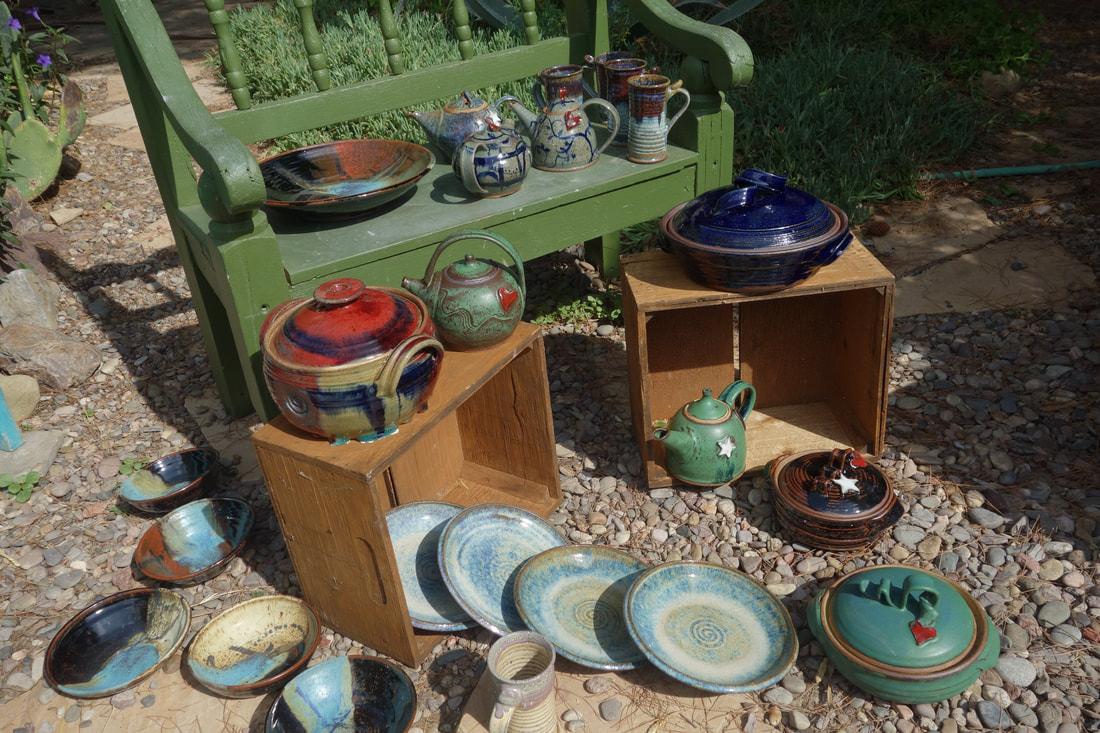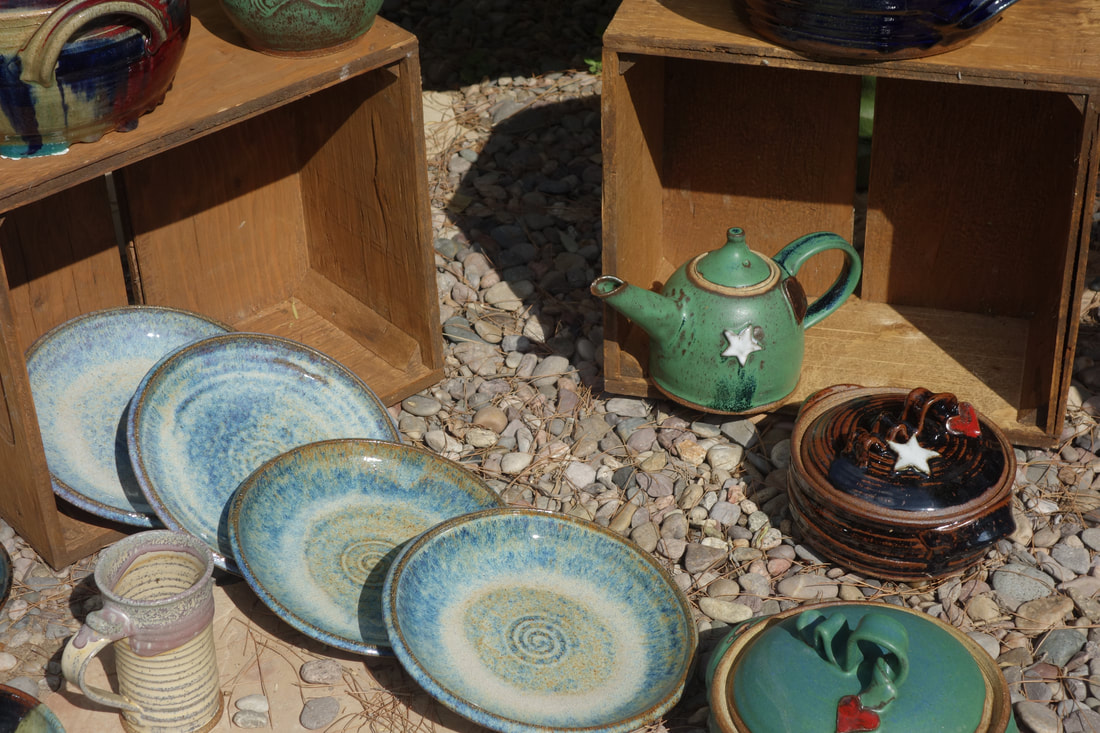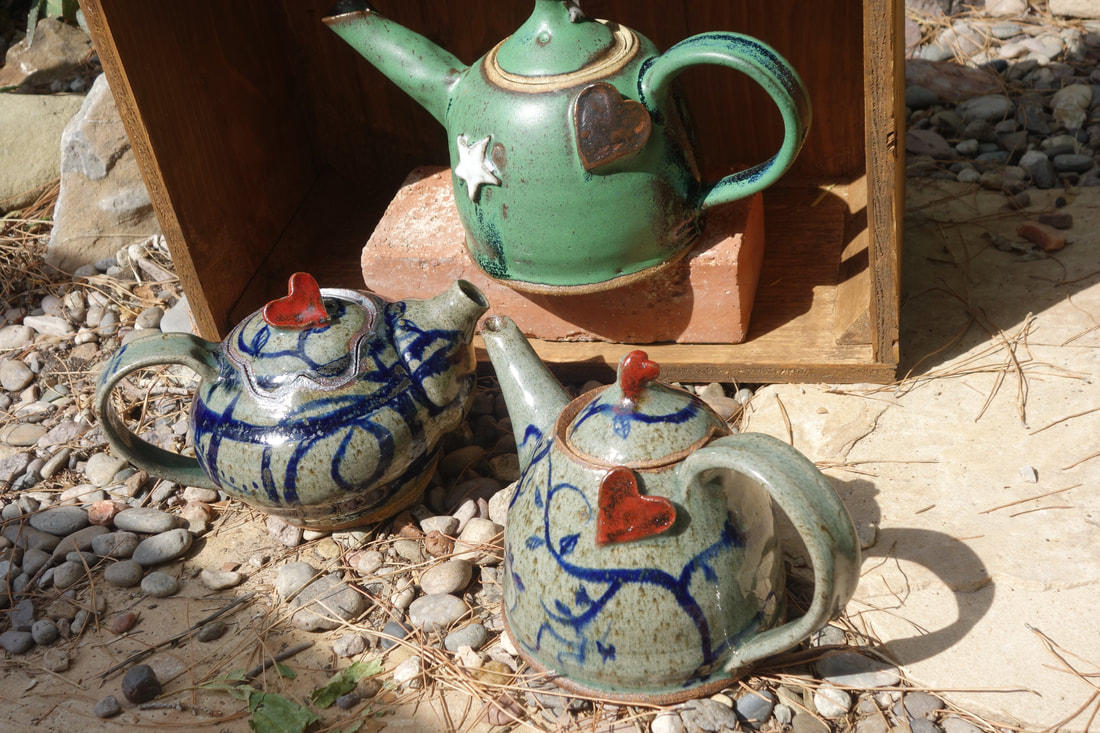 ---
Making bread bakers!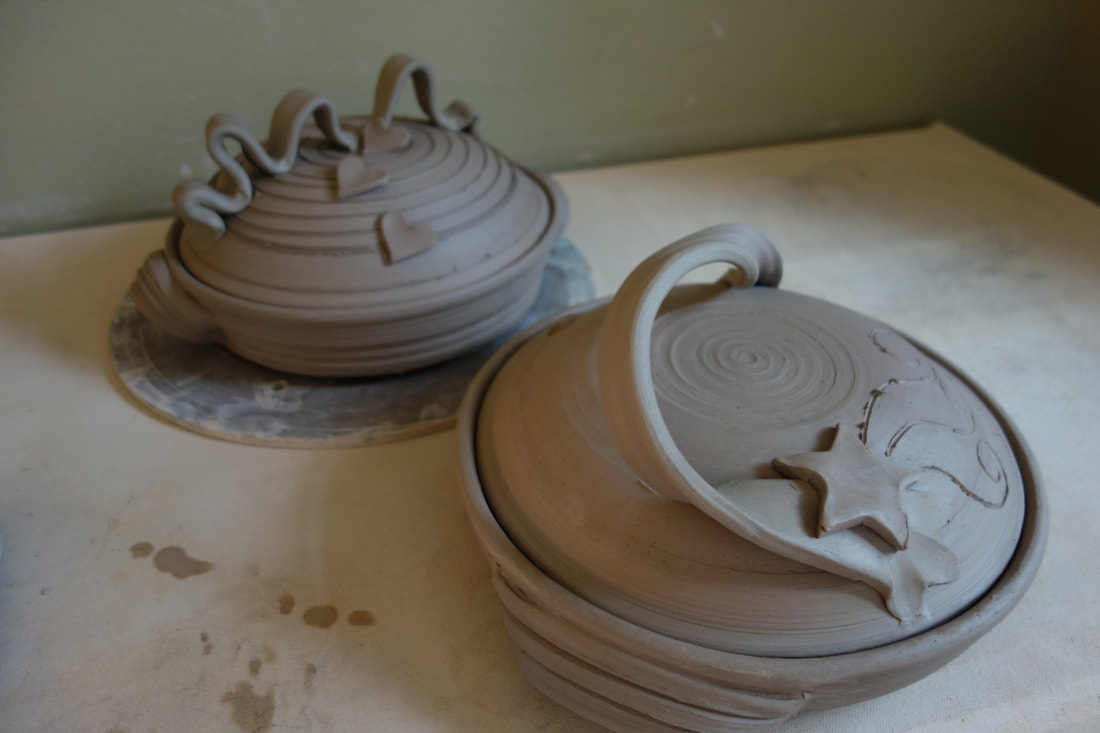 ---
I think pots are most beautiful and alive when they are still wet, fresh off the wheel. Here they are on my workbench! These pots are destined to become artisan bread bakers.
---
| | |
| --- | --- |
| Glazed and ready to fire. This is not QUITE the ugliest phase! The ugliest phase is when they come out of the bisque (preliminary firing) kiln, sickly pink, stiff, and naked. You might not want to see that! But here-- The big casserole in front on the left became the blue casserole (pictured right and in the big photo above of todays firing). In the back on the right you can see the big red beanpole, also pictured above. | TA DAH! Opening the kiln this morning, August 10, 2017. |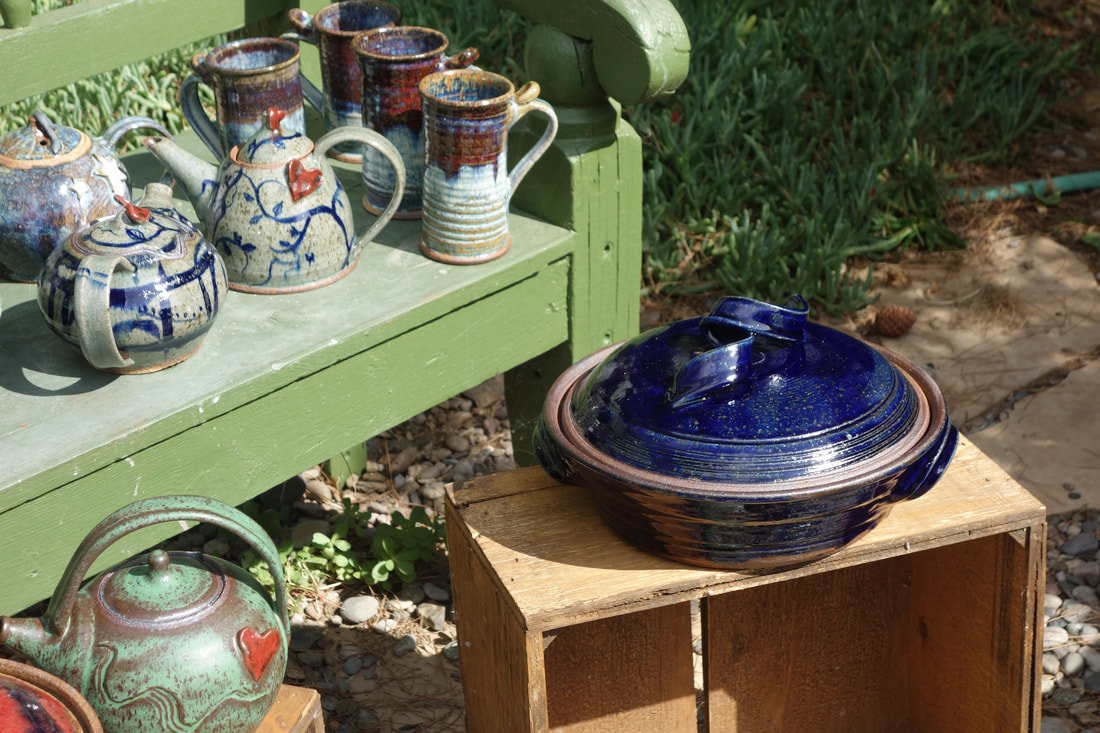 | | |
| --- | --- |
| This big blue casserole is an artisan bread baker! (good for any casserole dish, too, and for serving).There will be many more of these-- they are in the making! | |
Spring Firings 2017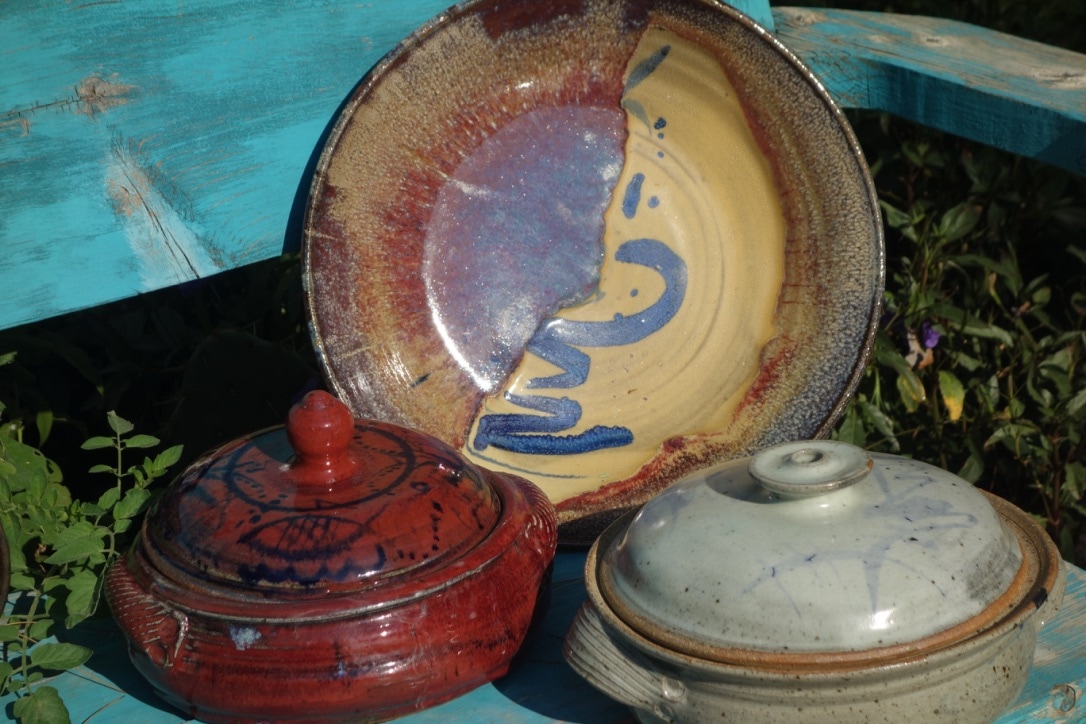 ---
And...​Look what you can make in a stoneware casserole!
Artisan Bread! ​



My neighbor, Annie Whitney, made this test loaf, pictured, in her kitchen this morning, in my new casserole pot.

Artisan bread is a NO-KNEAD, NO GREASE-THE-PAN very simple yeast bread with a super-crunchy crust. To make artisan bread in a stoneware casserole, place the empty casserole dish in a cool oven then heat to 500 degrees. Once the oven AND the empty casserole dish are up to temperature, open the oven. Carefully place the casserole dish either on the hot oven door or up on the very warm stovetop which has been heated by the 500 degree oven- DO NOT PLACE ON S COOL SURFACE! Gently plop the loaf you have had rising for the past 18 hours into the hot casserole, no grease needed-- replace the casserole lide, and slide back into the oven. Bake for 15 min covered at degrees, then remove casserole lid, and cook for 30 minutes longer until bread is crusty and brown. Take casserole out of the oven and set on warm stovetop as before. Pop out loaf and let it cool SO SIMPLE!


Here are some recipes for Artisan Bread from Judith Motzkin's website. http://www.breadpots.com/no-knead-bread-recipes/ Judith is a potter in Cambridge, Massachusetts, whose whole business seems to be about making what she calls "breadpots." Check her out!

So, in addition to making lovely casserole dishes in these pots you can make this easy and delicious bread in your stoneware casserole. Enjoy.


I am making a whole bunch of new covered casseroles of various sizes, small to BIG-- I'll post photos of them when they come out of the kiln!



---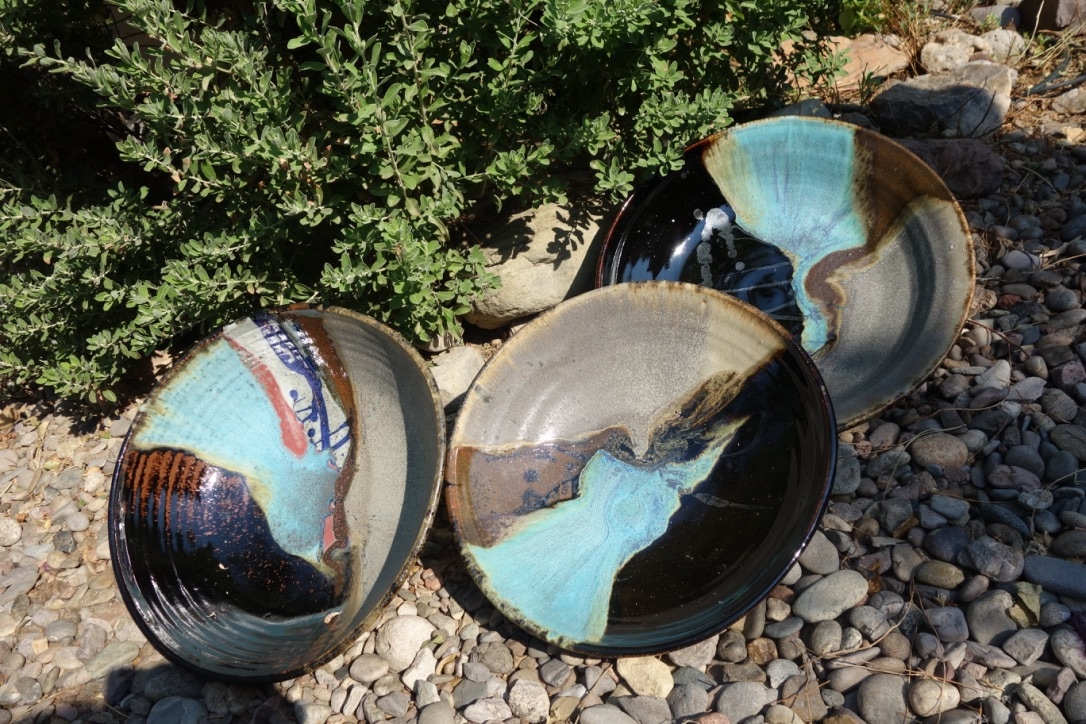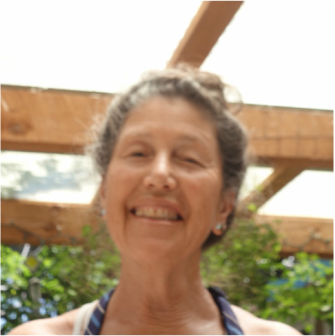 NEW RECORDING OF A LIFE'S WORTH OF MY MUSIC WITH SOUND LEVELS BETWEEN SONGS EQUALIZED!! SUCH A BLESSING. LOOK UNDER MY SONGS. LYRICS CAN BE FOUND UNDER LYRICS TAB.
LOVE TO ALL, HARU

SONGS!
The songs here are mostly mine. I have provided links to many of them which I have recorded on YouTube but also, here I have put together continuous recordings of many of the songs which I have performed so that you can listen to them one after the other without interruptions.



​ POTS!
Please enjoy looking at my pots. If you like what you see, you can email me at

haruspruce1@gmail.com

to inquire about specific pieces. I show at crafts fairs around New Mexico and at my home studio here in Truth or Consequences, NM.


VISIONS!
My Visions came through me. Visions of the Day are important thoughts
expressed by other writers. Enjoy!
---
"The capacity to become consciously vulnerable leads, not to impotence and defeat, but to a power so refined by the fierce fire of Truth that it never needs to harm. This is freedom to be truly innocent."



William M. Schafer, Ph.D., from Roaming Free Inside the Cage.